(This is the first in a three-part series on what some SEC coaches said about other SEC programs. They spoke on the condition they would not be identified. Part One is about Tennessee football.)
By Jimmy Hyams
Tennessee was in turmoil 18 months ago.
The Vols were coming off a 3-7 season. Coach Jeremy Pruitt and nine staff members were fired for violating NCAA rules. Athletic director Phillip Fulmer was also dispatched.
Players were jumping ship faster than sailors on a sinking vessel.
When the dust had cleared, UT had lost more than 40 players that could have been on the 2021 roster via transfer portal, retirement or released from the National Letter of Intent.
New athletic director Danny White, after being turned down by several other candidates, landed on a familiar face: his coach at Central Florida, Josh Heupel.
Inheriting an offense that barely averaged 21 points per game in 2020, Heupel took a transfer quarterback, two non-productive wideouts, unproven running backs and an average offensive line and managed to set a Tennessee school record for points in a season: 511.
Heupel's efforts earned him co-winner of the Steve Spurrier Award which goes to a coach who did the best job in his first year at a new school.
The award was well earned.
Tennessee's quick turnaround was not lost on SEC coaches.
"I've been really impressed with Josh Heupel,'' said one SEC coach, who asked not to be identified. "He did a great job with (quarterback) Hendon Hooker. Obviously, they had some talent there.''
Actually, it wasn't that obvious. Hooker was a transfer from Virginia Tech who was struggling to start. Receiver Cedric Tillman had eight catches in three years. Receiver Velus Jones Jr. had moderate success in 2020 after transferring from USC. Both high profile running backs (Ty Chandler and Eric Gray) transferred out of the program. And the offensive line was mediocre.
But that didn't stop Tennessee from blowing out the likes of Missouri and South Carolina and outscoring opponents by a whopping 191-50 in the first quarter.
"Tennessee was much improved,'' one SEC coach said. "Had a culture change. Made moves in recruiting. The next step is to keep taking steps forward. When you're in the SEC and you've made the moves to get where they are, you've got to keep going. It's not a sprint. It's a marathon. That's hard for fans to accept but they're headed to the finish line.''
To get to the finish line, UT must improve its recruiting. One coach complimented the Vols for the additions made in the transfer portal.
But defense is a concern. The Vols allowed 29.1 points per game last year and lost 48-45 to Purdue in the Music City Bowl game, allowing over 500 passing yards. Four other teams scored at least 40 points.
"It's very difficult to be a top 20 defense playing as many snaps as they'll have to play with that offense,'' one coach said. "That doesn't mean they're not a good defense. But you can't ask those kids to play 80-90 snaps a game.''
Maybe not. But despite the defensive shortcomings, Cole Cubelic and Roman Harper of the SEC Network think the Vols could battle to be the third best team in the SEC.
Former Alabama quarterback Greg McElroy, also with the SEC Network, isn't that bullish on the Vols.
Besides Alabama and Georgia, he's got LSU, Arkansas and Texas A&M ahead of Tennessee.
"I thought what Tennessee did last year was remarkable, no denying that,'' said McElroy at the recent SEC Football Media Days in Atlanta. "But I also think last year Tennessee benefitted from not necessarily being taken seriously until they needed to be taken seriously.
"Now it's just a little bit more challenging to play under the weight of expectations. We all know the wonderful people of Knoxville, Tennessee, are bursting at the seams with excitement, as they should be, with the direction of the program. And I think they will be better this year, for sure.
"But have they gotten to the point in which they're going to beat the top teams in the league? I'm not quite there yet.''
"The next step is the consistent performance against the best teams.''
McElroy says he has Tennessee with around eight wins "which would be phenomenal'' with a ninth win in a bowl game very possible.
Would McElroy, who quarterbacked a pro style attack at Alabama, have enjoyed running UT's uptempo offense?
"I would have loved it,'' he said, "just because you have to be so smart before the snap. And the coaches are calling it so quickly and you're getting favorable matchups because of where defenders are aligned.''
I have the upmost respect for the offensive system that they run. I just hope it doesn't hang the defense out to dry.''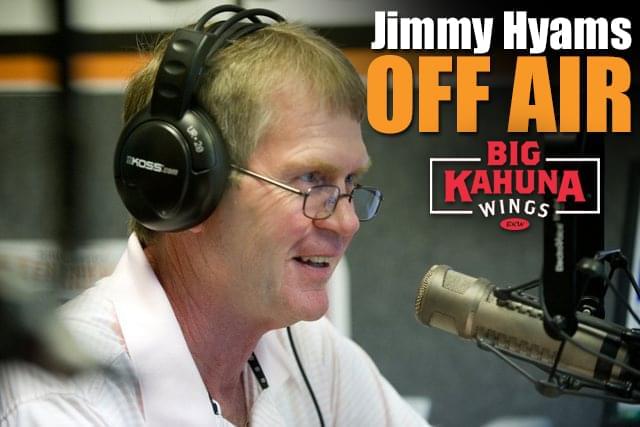 Sponsored by Big Kahuna Wings: The wings that changed it all