By Jimmy Hyams
Danny White believes in transparency.
That's why Tennessee's second-year athletic director wasn't afraid to share his 5-year strategic plan known as Rise Glorious – a moniker he said he didn't invent.
White's plan calls for improved facilities, increased donations, the ultimate experience for the student-athlete and specific athletic achievement goals.
Like winning a national championship in at least one sport every four years.
Like winning the SEC title at least once every five years in each sport.
Like winning three SEC championships per year over the next five years (UT won five this year).
Tennessee just won the SEC All-sports trophy for the first time ever and won the men's all-sports trophy. It finished second in the women's all-sports derby.
Does that mean Tennessee is close to being where White wants it to be? No.
"I don't think we are, no,'' White said. "I don't think we have the infrastructure from a facilities standpoint to be sustainable.''
But he did point out he feels UT has many great coaches capable of winning at a high level.
White isn't afraid to put those goals out there for public consumption, saying everyone in each sport needs to be accountable. He also thinks going public with those goals could provide motivation for fans to contribute to that success.
White also wants to finish in the top 15 three out of five years in the Learfield Director's Cup national all-sports race. UT finished 13th this past season – its best in 16 years.
White has a goal for selling season tickets in football.
He also has a goal to increase the budget.
To raise the revenues White seeks, does football have to do well?
"no question,'' he said. "It's the rising tide that carries all ships.''
White noted that football and men's basketball are the only two net revenue-generating sports.
"Having a fun style of play (in football) and an exciting team to watch matters,'' White said.
Season-ticket goals for football: 56,000 this year, then 61,000, then 68,000, then 69,000 ten 70,000. As recently as 20216, Tennessee sold a record 73,116 season tickets. In 2021, the year after Covid, season ticket sales were 52,236. In 2019, season ticket sales were 62,560. Tennessee sold 72,826 season tickets in 2008, the year after the Vols won the SEC East division and lost to LSU in the SEC title game.
White said he's not sure he wants to sell out football season tickets because he wants some fans to be able to purchase individual game tickets.
In men's basketball, Tennessee's season ticket goal for this season is 12,500, then 13,000, then 13,500, then 14,000, then 14,500. Season ticket sales last year were 13,562. The high mark under Rick Barnes: 15,551 in 2019-20. The all-time record came under Bruce Pearl: 16,645 in 2008-09.
"Those are big numbers in big buildings,'' White said.
In women's basketball, the season ticket goal is 5,500 this year, then 6,500, then 7,000, then 7,500, then 8,000.
Tennessee has had some impressive season-ticket numbers in football and basketball. In 2016, Tennessee had 73,116 in football season tickets and 10,229 in men's basketball for a total of 83,345.
In 2008-09, when men's basketball set a record with 16,645 season tickets, football sold 72,826 for a combined total of 89,471.
White would like to increase the overall budget to $170 million this year, then $180 million, then $190 million, then $200 million, then over $200 million.
Unrestricted Annual Fund goal: $34 million for 2022-23, then $36 million, then $38 million, then $39 million then $40 million. That amount has fluctuated between $26-and-30 million over the past few years.
Regarding the budget and facilities goals, White admitted those are "pretty bold, pretty aggressive.''
White said he is not concerned about donors contributing to a collective for Name, Imagine and Likeness and thus reducing the amount donated to UT athletics.
"I think there are plenty of generous, passionate Vol fans, some that contribute to both, because they can,'' White said. "I don't lose sleep over the competition of NIL from a fund-raising standpoint. It's not something that's on my radar at all.
"What we can't do, though, is ignore the fact that there are schools in our own conference that we're trying to beat that have the facilities we're talking about building. Those things matter. We can't just say we have NIL now the rest of this stuff is on the backburner. It's not. It's very real and very much a factor when it comes to winning in this league.''
White also said that while the economic status of the country and area has an impact on many, he doesn't think it will have a profound negative effect on donations to UT.
"Even in a bad economy,'' White said, "somebody's making money.''
The national championship goal is intriguing. Since 2000, UT has won six national titles: two in women's basketball, two in women's track and field, two in men's track and field.
White said UT's coaches and athletes are competitive, and he's confident the coaches are in place to bring success on the field or court to many sports.
Said White: "If I have to talk our coaches into wanting to win, we don't have the right coach. And we don't have a single coach like that.''
On other topics:
White did not rule out selling naming rights to Neyland Stadium or Thompson-Boling Arena.
White said 60% of the seats in Neyland Stadium went down in price.
White said fans need to understand the budget is tied to success: "it would be like worrying about how fast the car is without being concerned about how big the engine is. The revenue is our engine.''
 Here is a link to the entire plan:
https://s3.amazonaws.com/sidearm.sites/utsports.com/documents/2022/7/6/Rise_Glorious_Strategic_Plan__Final_.pdf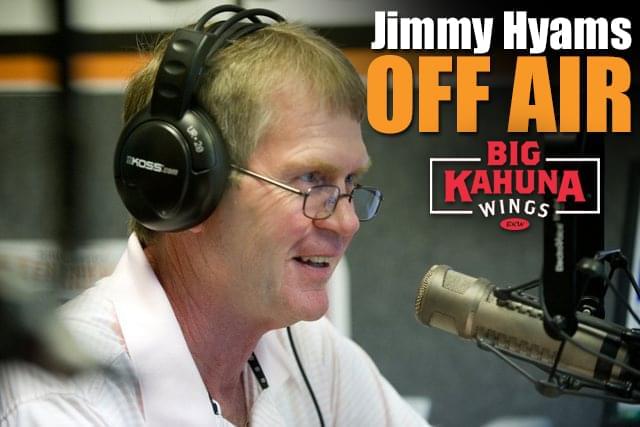 Sponsored By Big Kahuna Wings: The wings that changed it all