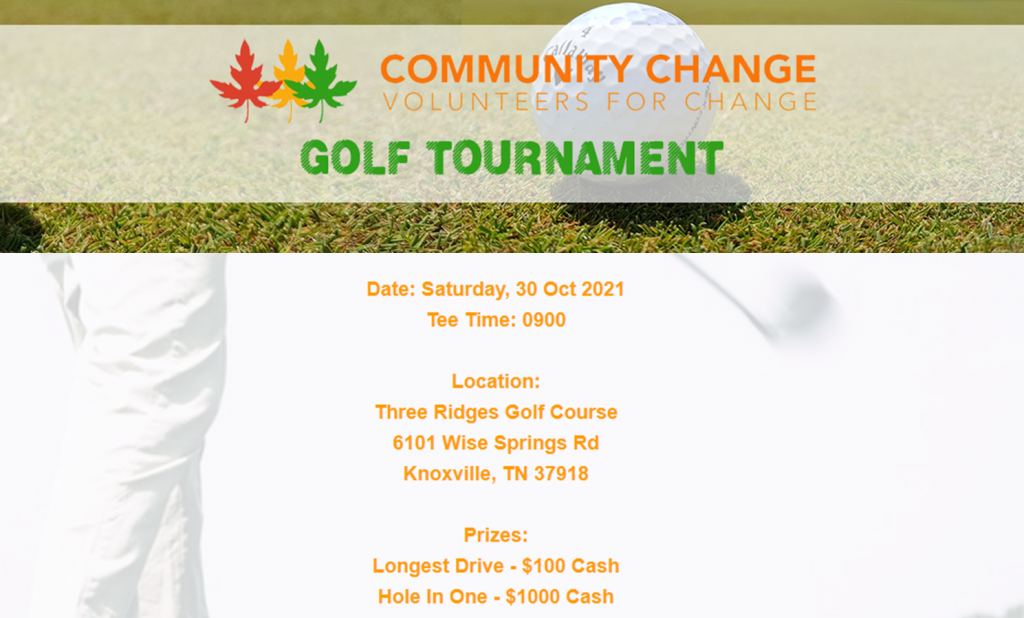 Community Change Foundation,
previously Community Change Tennessee, will be hosting their annual golf
tournament fundraiser on Saturday, October 30th, 2021 with tee off starting at
9:00 AM. The tournament will take place at Three Ridges Golf Course, located at
6101 Wise Springs Road.
This event will include a day full of golfing with teams of fours. Each registered
individual will receive a catered lunch and prizes will be awarded for longest
drive, first place, hole-in-one, and best dressed/costume for Halloween. All
proceeds and donations go directly to veterans and first responders for life saving mental health treatments.
"Community Change Foundation is asking for the Knoxville and surrounding
communities to come out to support this great non-profit on October 30th," said
Kathy Gencay, Executive Director of Community Change Foundation.
"Fundraisers like these are so important because it not only provides us with
means to help those in need, but brings the community together for a great
cause."
Each golfer is asked to pay $125 or $500 for a team of four. Sponsorships are
also available at different levels. A donation of $250, includes a hole sponsorship
with a brief message and/or logo. A donation of $500, includes one player
admission and a hole sponsorship with a brief message and/or logo. Lastly, a
donation of $1,000, includes the hole sponsorship with admission of a team. All
sponsorship payments will be required day of tournament or can be proceed by
visiting our website: https://bit.ly/3AoWTHf or check mailed to the following
address: 10608 Flickenger Lane Knoxville, TN 37922.
For more information, you can visit our website or call Kathy Gencay at 865-370-
0098.
Date: Saturday, 30 Oct 2021Tee Time: 0900Location:
Three Ridges Golf Course6101 Wise Springs RdKnoxville, TN 37918
Prizes:Longest Drive – $100 Cash
Hole In One – $1000 Cash
In the Halloween spirit, we'll be recognizing the best dressed witha $150 Gift Card for Revitalist. https://revitalistclinic.com/
We will also have a special donation for a NEX grill for closest to the pin. https://nexgrill.com/products/revelry-4-burnerIf no one gets within 18″ of the hole,the drawing will be opened up to the media audience.Register today for your chance to win.


Food/Drink:
TBD
Beer "Ladies" will be gracing the golf course with their presence again!