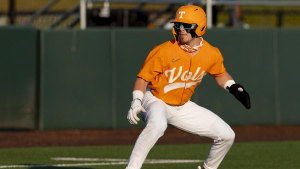 COLUMBIA, Mo. – No. 5 Tennessee used a five-run sixth inning to break open a close game and cruised to an 11-4 victory to secure a series win at Missouri on Saturday afternoon at Taylor Field.
Drew Gilbert and Luc Lipcius both drove in four runs apiece while Liam Spence, Max Ferguson joined them in having multi-hit games to lead the charge at the plate.
Junior right hander Camden Sewell picked up his second win of the season after a dominant relief outing. The Cleveland, Tennessee, native allowed just two hits and struck out four in two scoreless innings after starter Will Heflin was bounced from the game after just three innings of work.
Kirby Connell followed Sewell with three shutout innings of his own, allowing just two hits. Elijah Pleasants finished the day with a scoreless ninth inning as the UT bullpen combined to pitch six shutout frames to end the game.
The Big Orange jumped all over Tigers' starter Konnor Ash in the first inning, scoring four runs on five hits to race out to an early lead. After back-to-back singles by Spence and Ferguson to start the game, Gilbert drove in the game's first run with a double to right field. Lipcius plated two more runs with a single and Pete Derkay capped the scoring in the inning with another two-out RBI single to make it 4-0.
Ash finished with nine strikeouts on the day but was stuck with the loss after allowing six runs on nine hits and two walks in five innings of work.
Mizzou cut UT's lead in half with two runs of its own in the bottom of the first. Torin Montgomery drove in both runs with a double down the third-base line to make it a 4-2 game. The Tigers plated two more runs in the third on a Tre Morris double to tie the game at four.
Tennessee started the fifth inning with three straight hits from Jake Rucker, Gilbert and Evan Russell. Russell's double brought in a pair of runs to put the Vols back in front, 6-4.
The Vols pulled away with a big five-run sixth inning. Gilbert continued his big day with a bases-clearing double to make it 9-4 before Lipcius belted an opposite-field, two-run shot for his ninth homer of the year to extend the lead to 11-4.
Tennessee will go for the series sweep tomorrow at 2 p.m. ET. The game will be streamed live on SEC Network+ and the ESPN app.
NOTABLE
SETTING THE TABLE: Liam Spence and Max Ferguson continued to be ultra-productive at the top of Tennessee's lineup. The duo combined for five hits and four runs scored on Saturday afternoon after accounting for four hits, two runs and four RBI in Friday's victory.
GILBERT GETTING IT DONE: Sophomore outfielder Drew Gilbert had another productive day at the dish with three hits, three runs scored and four RBI. Two of Gilbert's three hits were doubles, giving him a new career high. The Minnesota native had a pair of hits in Friday's series opener, as well, giving him five base knocks for the series heading into tomorrow's finale.
LIPCIUS LONG BALLS: Veteran first baseman Luc Lipcius continued his hot hitting with two hits and four RBI. The Virginia native hit his ninth home run of the season in the sixth inning and has now homered in five of his last six SEC games. The Vols have hit at least one home run in their last 10 conference games.
Box Score (PDF) | DOWNLOAD: Vitello Postgame
-UT Athletics