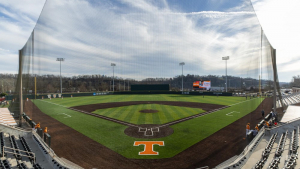 Tennessee's conference opponents for the 2022 baseball season are revealed as the Southeastern Conference announces the league schedules for all 14 teams.
The defending SEC Eastern Division champion Volunteers will open their SEC slate at home against South Carolina on March 18. Other home series include matchups with Missouri, Alabama, Auburn and Georgia.
The 2022 SEC Tournament will once again be held in Hoover, Alabama at the Hoover Met Stadium from May 24-29.
Here is the Vols' full 2022 SEC schedule can be seen below. Dates are subject to change for television scheduling.
Opponent Date Location
South Carolina March 18-20 Knoxville, Tenn.
Ole Miss March 25-27 Oxford, Miss.
Vanderbilt April 1-3 Nashville, Tenn.
Missouri April 8-10 Knoxville, Tenn.
Alabama April 15-17 Knoxville, Tenn.
Florida April 22-24 Gainesville, Fla.
Auburn April 29 – May 1 Knoxville, Tenn.
Kentucky May 6-8 Lexington, Ky.
Georgia May 13-15 Knoxville, Tenn.
Mississippi State May 19-21 Starkville, Miss.
Photo courtesy of UT Athletics