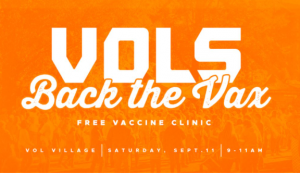 You can get your free COVID-19 vaccination at Vol Village in Humanities Plaza prior to this Saturday's football game.
The event will take place from 9 a.m. – 11 a.m. Those 12 and older are eligible to receive their first or second dose of the Pfizer vaccine. For those receiving their first dose, resources to coordinate the required second dose also will be available.
Tennessee kicks off against Pittsburgh at noon. Tickets are still available however a ticket is not required to receive the vaccine.
Photo courtesy of UT Sports