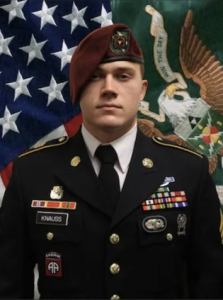 The body of 23 year-old Army Staff Sgt. Ryan C. Knauss of Corryton arrived at the McGhee Tyson Airport this morning at 10:30 am. He was killed during a suicide bombing at the Kabul Airport in Afghanistan last month.
As the convoy escorted him to Mynatt Funeral Home in Halls, East Tennesseeans lined streets and honored Knauss and his family.
Saturday you can line the road from Mynatts in Halls to Gibbs High School for a public memorial at Gibbs High School at 5 p.m.
God Bless SSGT. Ryan Knauss. Thank you for your service faithful soldier 🇺🇸 pic.twitter.com/SDDUgJi8Uu

— Knoxville Fire (@KnoxvilleFire) September 9, 2021
It was our absolute honor and privilege to help bring Staff Sergeant Ryan Knauss home after he made the ultimate sacrifice. May that sacrifice and his service on behalf of our country never be forgotten. pic.twitter.com/1qWiMyVWMh

— Knoxville Police TN (@Knoxville_PD) September 9, 2021