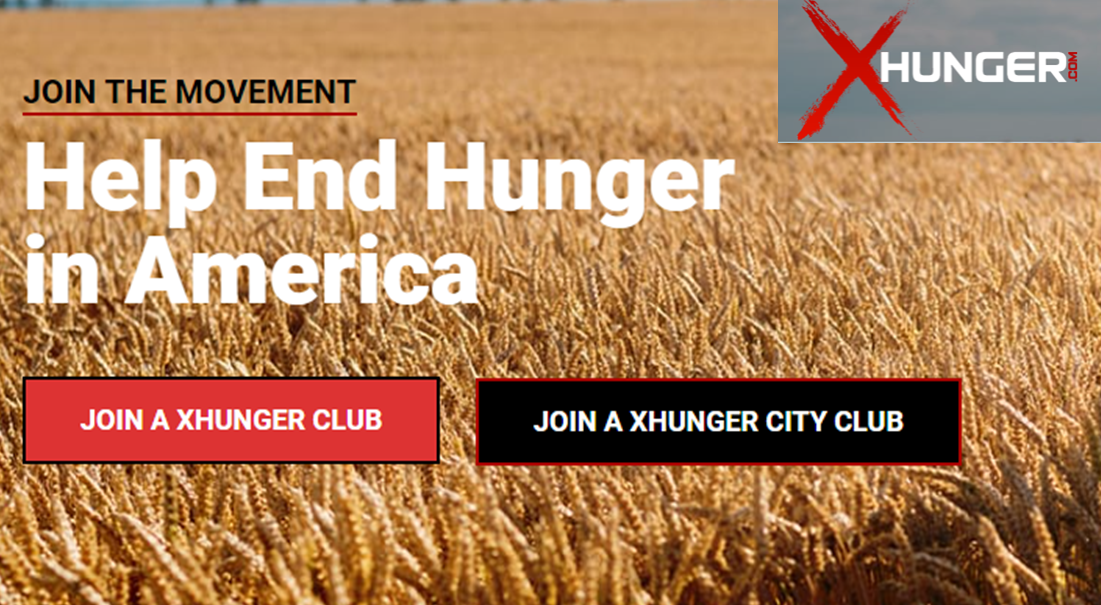 JOIN THE MOVEMENT
The XHunger Club is the newest and most innovative way that allows high school and college students to attain service hours and help end hunger in America. In addition the XHunger City Clubs allows individuals and businesses the opportunity to help end hunger in America as well. The XHunger Club simply locates a food pantry, understands their mission and then volunteers & supports that pantry. XHunger Clubs are student led and is how service learning is achieved. Service hours are attained on an ongoing basis. America does not need more food pantries, it needs more volunteers and supporters to help people in need of hunger solutions.
Stay in touch about what XHunger is doing! Join our weekly Zoom call every Tuesday night at 7:00pm. Meet the leaders, learn how you can get involved, and what events are coming up!
Join The Movement!
The XHunger Tour is a series of events and entertainment to benefit local food pantries and food banks. All events help to educate about the food insecurities we experience locally and about the agencies that provide these helpful services.
Learn how you can volunteer by starting your own XHunger Club. Come Join us at each of the following events every Wednesday, Thursday, and Friday!
At each event you can register to win some great prizes! Trips, FREE food and more!!
If you are a High School or College student in the 2021-2022 school year, you can register to win a NEW Chevrolet Sonic, graciously donated by Beaty Chevrolet! Come see the car at our events.
Food City Locations
Join us on Wednesdays at a Food City near you!
4:30pm – 7:30pm
Sept. 1 – 9565 Middlebrook Pike (Ball Camp)
Sept. 8 – 11501 Hardin Valley Road (Hardin Valley)
Sept. 15 – 6710 Malone Creek Drive (Schaad Road)
Sept. 22 – 7202 Maynardville Pike (Halls)
Sept. 29 – 7608 Mountain Grove Drive (Mountain Grove)
Oct. 6 – 1199 Oak Ridge Turnpike (Oak Ridge)
Oct. 13 – 2712 Loves Creek Road (Millertown Pike)
Oct. 20 – 284 Morrell Road (Deane Hill)
Oct. 27 – 4805 North Broadway Street (Fountain City)
GO VOLS!
Join us on Fridays to cheer on the Volunteers at the Food City Pep Rallies
Pep Rallies 3:00 pm – 6:00 pm
Sept. 10 – 9565 Middlebrook Pike (Ball Camp) – UT vs Pittsburgh
Oct. 8 – 6710 Malone Creek Drive (Schaad Road) – UT vs South Carolina
Oct. 15 – 7608 Mountain Grove Drive (Mountain Grove) – UT vs Ole Miss
Nov. 12 – 7350 Clinton Highway (Powell) – UT vs Georgia
What are you doing on Thursdays? Come meet us at your favorite restaurants!
5:00pm – 8:00 pm
Aug. 26 – Union Place (Bearden)
Sept. 2 – Bluetick Tavern (Maryville)
Sept. 9 – Tennessee Smokies (Sevierville)
Sept. 16 – Sunspot (UT Campus)
Sept. 23 – Daddy Mac's (Farragut)
Sept. 30 – Fieldhouse Social (UT Campus)
Oct. 7 – Billy Rattliff's Tap 40 Grill (Powell)
Oct. 14 – Loco Burro (Gatlinburg)
Oct. 21 – Stefanos Pizza (Hardin Valley)
Oct. 28 – Aubrey's Papermill (Knoxville)
Cheer on your favorite High School team! Come join us along with 99.1 – The Sports Animal for the Game of the Week and with Diamond Clear Media to catch the games in person and online!
Game of the Week
Aug. 20 – Anderson Co. @ Powell
Aug. 27 – Grace @ South-Doyle
Sept. 3 – Sevier Co. @ Central
To see the games online go to: