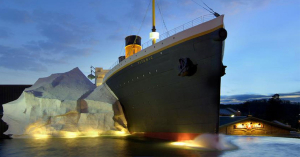 Three people are injured due to an iceberg wall collapse at the Titanic Museum Attraction in Pigeon Forge.
It happened yesterday (Monday). All three were taken to the hospital and the extent of their injuries has not been released.
The Titanic Museum allows "passengers" experience the environment of the Titanic. The tour is self-guided and allows visitors to touch a real iceberg, reach your hand in 28-degree water, shovel "coal" and try to stand on a sloping deck.