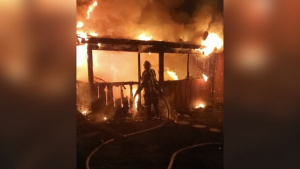 The Knoxville Fire Department investigating an overnight fire.
KFD responding to a residential fire on Valley View Drive in North Knoxville just after 11 p.m.
When crews arrived they found flames coming from the side of the house, and part of the back had already fallen. Firefighters requesting an additional engine to fight the fire. No injuries were reported and the person in the home is receiving assistance.
Photo courtesy of WVLT