Covid-19 continues to rise in Knox County, but remains comparatively low when looking at the rest of the pandemic.
Knox County, just like much of the country, has seen an increase in Covid-19 cases lately. Over the past couple of weeks, active cases have risen over 250%.
The total amount of Covid in the area still remains low compared to Covid rates previously in the pandemic. Knox County reported 88 new cases of Covid on July 27 which is roughly one-tenth of the number of new cases Knox County saw during the height of the pandemic in December. The number of new cases also falls short of what the county saw a year before. On July 27, 2020 there were 122 new Covid cases.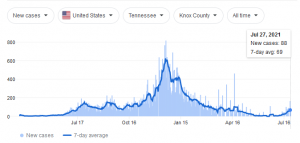 Deaths still remain comparatively low as well. Knox County's seven day rolling average of deaths was one as of July 27th. Comparatively, the rolling average of deaths was seven during parts of December and January. The rolling average on July 27th of this year was the same as July 27 of 2020.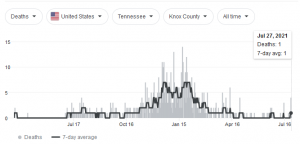 Knox County Mayor Glenn Jacobs has adamantly said that he will not implement any more Covid-19 restrictions. On Sunday, the Mayor tweeted, "As we once again hear talk about lockdowns and mandates across the country, I feel it is important I make it clear that under no circumstances will I issue any new COVID restrictions."
Many state lawmakers are still urging Tennesseans to get vaccinated, saying it is the best way to fight Covid-19.