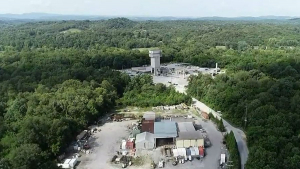 The U.S. Department of Labor and Mine Safety and Health Administration release the preliminary report detailing a mine collapse that killed a man and hurt two others at the Immel Nyrstar Mine.
68 year-old Gerald Turbyville was fatally injured. He was a scaler operator and had over 10 years of mining experience. The accident report says while performing scaling operations from the basket of a personnel lift, Turbyville was fatally injured when a piece of rock fell and struck him on July 13 .
Nyrstar was cited twice for communication issues at its Knox County Immel mine. A citation written the day before the deadly collapse. The condition of the injured miners, one was treated and released and one underwent surgery and is recovering.
Photo courtesy of WVLT