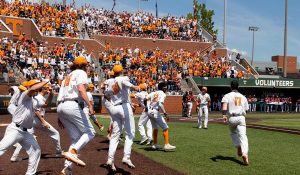 Tickets for Tennessee baseball's super regional sold out within two hours of their release Wednesday morning.
Following their 8:30 a.m. release, fans flooded Tennessee's ticketing website selling out tickets to both guaranteed games and the third (if needed game) between Tennessee and LSU.
Tickets area already posted for high marks on the secondary market. Vivid Seats has one ticket available to Sunday's game which is posted for $600. Tickets for the third (if necessary) game are ranging from $289 – $353.
During the regional series, Tennessee would sell 300 "standing room only" tickets 90 minutes before game time. The majority of those students were given to students, though it is unclear what the policy will be for the Super Regional game.
The winner of the three game series between the Vols and Tigers will head to the College World Series.