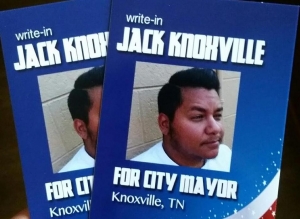 He doesn't have a campaign budget or an election staff, but a Knoxville man is joining the race for Knoxville Mayor.  Jack Knoxville, a transgender who legally changed his name recently, is asking for your write-in vote Tuesday, September 29th. Knoxville says the city's crime rate, which he claims is above the national average, is one of the main reasons he is running for office. He wants to work to create a better connection between citizens and police officers.
Knoxville says, "More interaction with the local police department, putting a friendly face with these officers so that we develop more of a respectful environment towards our local law enforcement, and we again…we start working with them as citizens rather than having an us versus them mentality."
Incumbent Mayor Madeline Rogero says this election is very different than the one four years ago when she faced several opponents.
Rogero says, "And I hope that the fact that I don't have opposition on the ballot reflects that, in general, there is agreement with our direction and support for that."
Tuesday's Primary Election includes races for Knoxville Mayor, four City Council seats, and a Municipal Judge seat.